--------------------- May 2015 -----------

Tues 12th May 7.30 pm
Eileen Willshaw (Wirral Borough Council Heritage Officer)
'Wirral - Making Our Heritage Matter'
Hoylake and West Kirby Civic Society
United Reformed Church Hall, Meols Drive, West Kirby.
New members and visitors are always welcome.
Visitors £ 2.50 per meeting.

Wed 13 May 7.30pm
Primulas and Auriculas
by Ingrid Millington
Hoylake & District Gardening Society
Mini Hall at Hoylake Parade Community Centre
Talk followed by refreshments. Guests very welcome, £2.
... [click here for more info]

Saturday 16th May 2 - 4 p.m.
Explore the Rocks - the Geology of Thurstaston Common
Explore how the rocks beneath your feet came into being and how they have influenced our lives. Local geologist, Hilary Davies, will lead us over the Thurstaston Common ridge, visit Thor's Stone and explain the features exposed in the rock cutting on Telegraph Road.
Some steep slopes. Wear stout footwear.Meet at the car park for Thurstaston Common on the A540 (Grid ref: SJ247846).
Free walk. No need to book.
www.wirralwildlife.org.uk/programme.html

Saturday 16th May, 7.30pm
Hoylake Choral Society presents:
Vivaldi - Gloria
Rutter - Gloria
Poulenc - Gloria
Hoylake Chapel, Station Rd, Hoylake, Wirral. CH47 4AA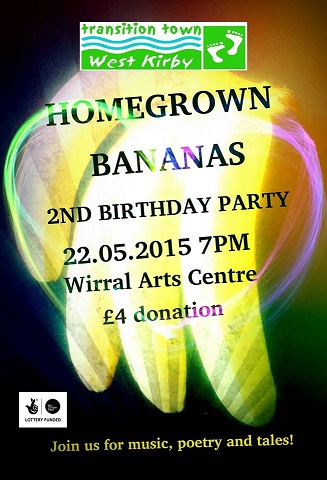 Soloists. Sarah Ogden Soprano. Helen Gregory Mezzo Soprano.
Graham Eccles - Organist
David Bebbington - Conductor
Tickets £10, Students and Children £3.
Available at the door or in advance from:
The Ticket Secretary. Heather Norman 07887 634076
Hoylake Post Office, 48 Market Street, Hoylake.
For further details call (0151) 625 6184
email hcs.publicity@btinternet.com or visit our web site www.hoylakechoralsociety.org.uk
Registered Charity No 243442

Sunday 17th May 10.00am - 4.00pm
Vintage Car Rally at Royden Park
Come and see a range of vintage cars parked in the main events field at Royden Park.
The Tea Servery at Royden Park is open for refreshments.
Contact numbers/e-mail: midwirralrangers@wirral.gov.uk 0151 677 7594


Wednesday 27th May, 1 - 3pm
Look, Listen and Enjoy at Royden Park
Come along on this half term children's event and look, listen and enjoy Royden park through a variety of activities.
This activity starts at the Coach House/Courtyard then promptly moves out into other parts of Royden Park.
Meet at the Coach House/Courtyard at Royden Park.
The Tea Servery here is open for refreshments.
Special requirements: Outdoor clothing and footwear.
Contact: midwirralrangers@wirral.gov.uk 0151 677 7594

Thurs 28 May
Evening visit to a local, private garden
Hoylake & District Gardening Society
... [click here for more info]

Thurs 28 May 8pm
"AGM & Wirral Bird Club Members - Tell Tales"
Stories of birdwatching through the past year. Wirral Bird Club Members
Kingsmead School Hall, Bertram Drive, Hoylake CH47 0LL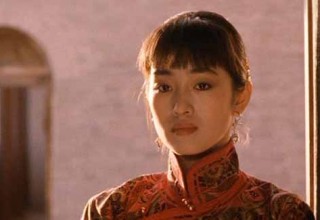 www.wirralbirdclub.com Non members are very welcome and the charge is £3.50 which includes light refreshments.
For more information, please contact Bill on 0151 345 4978

Friday 29th May 7.30pm
Red Sorghum
Set in the northern province of Shandong during the 1920s and early 30s. 7.30pm
A Hoylake Community Cinema film, at Hoylake Parade
Licensed bar, fresh food. Doors open 6.30 & film 7.30pm
For more details or to book visit www.hoylakecommunitycinema.co.uk

Saturday 30th May 7.30pm
An Audience with Chris Tarrant
Westbourne Hall, West Kirby www.westbournehall.co.uk
Part of the Wirral Festival of Firsts, 27th June - 12th July
For ticket details download full Festival programme here

Sunday 31st May, 10am - 4pm
Static live Birds of Prey Display - Coach House, Royden Park
Visit Royden Park today and see these wonderful Birds of Prey from all over the world within the Coach House. These are all birds of Steve Dewsnap of Raptor Rescue.
The Tea Servery here is open for refreshments.
Special requirements: Sorry no dogs within the Coach House
Contact: midwirralrangers@wirral.gov.uk 0151 677 7594

Sunday 31st May 12-5 pm
Coronation Gardens Charities and Community Fair
A variety of stalls to inteterst people of all ages
An opportunity to support and learn about the local charities and community groups
Free admission
Location : Coronation Gardens, West Kirby
www.coronationgardens.co.uk


Wed 10 June
Coach trip to Bridgemere Garden Centre & the Dorothy Clive Garden
Members have priority
Hoylake & District Gardening Society
... [click here for more info]

Sunday 14th June, 11am - 3pm
Animal Ark at Royden Park
Come and see a variety of exotic and native animals form skunks to chameleons, snakes to spiders and lots more!
In the Coach House at Royden Park
Special requirements: Sorry no dogs.
Contact: midwirralrangers@wirral.gov.uk

Monday 22nd June - to Saturday 27th June
Much Ado About Nothing
Hillbark Players will be performing Shakespeare's great comedy Much Ado About Nothing
In Royden Park, Frankby from Monday 22nd June - to Saturday 27th June.
Evenings at 8pm with a matinee on Saturday 27th at 2.30pm. ALL SEATS ARE UNDER COVER.
Tickets are from £10-£22 and can be obtained from the Floral Pavilion Box Office, by phone, in person or online.
Alternatively, go to www.hillbarkplayers.co.uk and click on the 'Buy tickets' link.

Thurs 25 June 8pm
"Shetland to Scilly"
Over 100 species of birds of the British Isles, from Puffins to rarities. Ashley Grove
Kingsmead School Hall, Bertram Drive, Hoylake CH47 0LL
www.wirralbirdclub.com Non members are very welcome and the charge is £3.50 which includes light refreshments.
For more information, please contact Bill on 0151 345 4978

Friday 26th June 7.30pm
Saturday Night Fever
John Travolta graduated from minor celebrity to superstar with Saturday Night Fever. Travolta plays Tony Manero, a Brooklyn paint-store clerk who'd give anything to break out of his dead-end existence
A Hoylake Community Cinema film, at Hoylake Parade
Licensed bar, fresh food. Doors open 6.30 & film 7.30pm
For more details or to book visit www.hoylakecommunitycinema.co.uk

Sat 27 June
Carsington Water, Peak District (by coach)
Reservoir plus scrapes, woods and meadows. Excellent facilities.
www.wirralbirdclub.com Field Meeting. Non-members are welcome to come to field trips - [click here for more info]



Sat 27th June, 9 - 1pm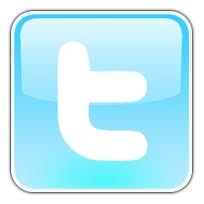 West Kirby Farmers' Market
St Andrew's Church Hall, Graham Rd, West Kirby CH48 5DE
By popular demand - your monthly Farmers' Market in West Kirby. Today and the 4th Sat in every month. Genuine local producers selling quality artisan foods. Organised by local volunteers, producers and Transition Town West Kirby. www.westkirbyfarmersmarket.co.uk

Saturday 27th June 1.00 - 4.00pm
Sounds By the Sea
Free Live entertainment Music & Song at Curio, Slinky's, Paloma & The Wro - West Kirby
Part of the Wirral Festival of Firsts, 27th June - 12th July
For more details download full Festival programme here

Saturday 27th June 2-4pm
Homegrown Bananas and Festi-Velo Decoration Station @ WK Library
Bring your bikes down to West Kirby Library and get decorating in preparation for Festi-Velo on 4th July. Plus a portion of Homegrown Bananas for great local music while you work!
(See inspired bicyle art ideas here www.bicycleartschool.blogspot.co.uk)

Saturday 27th June 7.00pm
Wirral Community Orchestra Summer Serenade
United Reformed Church, West Kirby Tickets £5
www.wirralcommunityorchestra.co.uk
Part of the Wirral Festival of Firsts, 27th June - 12th July
For ticket details download full Festival programme here

Sunday 28th June
The Wirral Coastal Walk 2015
Organised by the Rotary Club of North Wirral, this 15 mile charity walk from Seacombe to Thurstaston takes you around the scenic coastline of the Wirral Peninsula.
www.wirralcoastalwalk.org

Sun 28th Jun 9.30am-4.30pm
Herb Day at Ness Gardens
This course gives insights into many herbal applications of both native and non-native species, and offering practical techniques for making the most of garden herbs. A brief classroom introduction is followed by an extensive herb identification walk, where you will collect a small sample of medicinal plants followed by lunch. The afternoon includes a further short walk followed by a session making a variety of herbal preparations in class, including tinctures, syrups and ointments. This is a popular course and spaces are limited so early booking is advised.
£45.00 per person (includes, lunch, course and admission)
Bookings are made via Ness on 0151 353 0123 (Please note: a deposit is payable in advance to secure your place) www.nessgardens.org.uk

Sunday 28th June 2.00pm
Tea Dance
Wirral Arts Centre, West Kirby
The Secret Garden Tea Party presents a wartime themed tea dance, including Afternoon Tea. Tickets £12.50 www.wirralartscentre.org
Part of the Wirral Festival of Firsts, 27th June - 12th July
For ticket details download full Festival programme here

Monday 6th July 2.30pm
Joyce's War
Join Rhiannon Evans & Siân Bailey to hear about their mother's 2nd World War diary (History Press, 2015)
West Kirby Library - Free admission
For more details download full Festival programme here

Tuesday 7th July 5.30pm
Inisheer - Tea Time Concert
Hoylake Science Church, Free admission, includes tea
For more details download full Festival programme here

Tuesday 7th July 7.30pm
Sands Theatre Arts School Summer Showcase
Melrose Hall, Hoylake
Free admission With bucket collection
For more details download full Festival programme here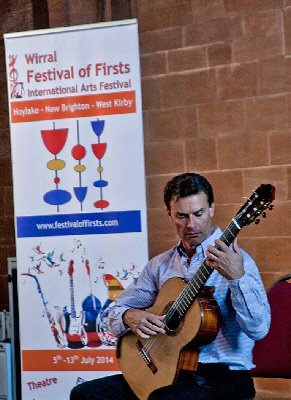 Wednesday 8th July 7.30pm
Craig Ogden & Miloš Milivojević in concert
At Hoylake Chapel - Tickets £12
Favourite classical Guitarist Craig Ogden returns to Hoylake bringing with him Serbian accordion maestro Miloš Milivojević
Part of the Wirral Festival of Firsts, 27th June - 12th July
For ticket details download full Festival programme here

Thursday 9th July 7.30pm
First Hand Tales
Joy France leads a new spoken word performance about life in Wirral developed by young people based on their own firsts and those of some Wirral oldies!
Melrose Hall, Hoylake, Tickets £5
Part of the Wirral Festival of Firsts, 27th June - 12th July
For ticket details download full Festival programme here

Friday 10th July 7.30pm
Kaleidoscope
A special evening of original poetry, dance, music and art, featuring C-City, Inisheer, Kevin McMahon & Clare Madeley, Jim Gordon & John Chatterton.
Melrose Hall, Hoylake, Tickets £5
Part of the Wirral Festival of Firsts, 27th June - 12th July
For ticket details download full Festival programme here

Saturday 11th July 1-5pm
A Grand Poetry Day Out
Flat Foot Sam's, 8 Grosvenor Rd, Hoylake CH47 3BS
& Studio Quattro, Central Hall, Market St., Hoylake CH47 3BS
A friendly opportunity for poets to read or perform their poetry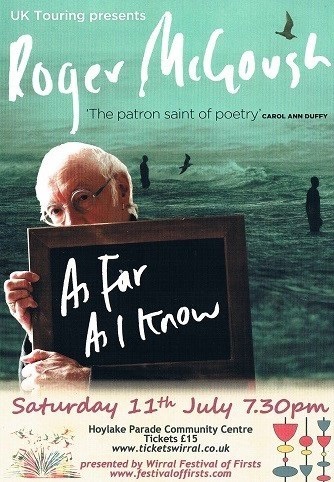 Venue Hosts Paul Harris, Kemal Houghton & Graham Robinson
Poets and Poetry Groups are invited to register in advance via
the website www.festivaloffirsts.com
Sign in at Flat Foot Sam's (opposite Hoylake Station).
Bring your poetry books to exhibit and sell!

Saturday 11th July 2.00pm - 4.00pm
Peninsula Jazz Men present Jazz in the Garden
St Andrew's URC Church, Meols. Free admission.
Part of the Wirral Festival of Firsts, 27th June - 12th July
For more details download full Festival programme here

Saturday 11th July 2.00pm
Wirral Ukulele Orchestra
St Luke's Church Hoylake
Tickets £6 Hoylake's favourite annual music concert returns to St Luke's - book early!
Part of the Wirral Festival of Firsts, 27th June - 12th July
For ticket details download full Festival programme here

Saturday 11th July 7.30pm
As Far As I Know
UK Touring presents an evening with Roger McGough
Part of the Wirral Festival of Firsts, 27th June - 12th July
For ticket details download full Festival programme here

Saturday 11th July 7.30pm
Lormac Productions presents Sing! Sing! Sing!
Melrose Hall
Free with Bucket Collection
Part of the Wirral Festival of Firsts, 27th June - 12th July
For more details download full Festival programme here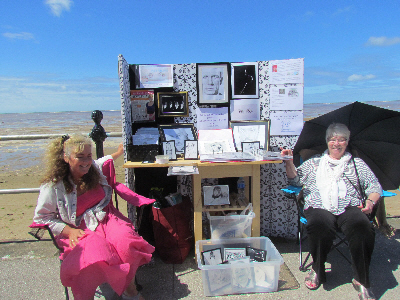 Sunday 12th July 10.00am - 4.00pm
Art on the Promenade
Artists exhibit along the 2 mile stretch of Hoylake promenade. To register as an exhibitor, please check the Festival website.
Artists of all ages and stages welcome! £5 to register.
Part of the Wirral Festival of Firsts, 27th June - 12th July
For more details download full Festival programme here

Sunday 12th July, 11am - 3pm
Animal Ark at Royden Park
Come and see a variety of exotic and native animals form skunks to chameleons, snakes to spiders and lots more!
Meet: In the Coach House at Royden Park
Special requirements: Sorry no dogs.
Contact: midwirralrangers@wirral.gov.uk

Sunday 12th July
Sunday at the Parade
Arts, crafts, exhibits, demonstrations and workshops take over Hoylake Parade Community Centre for the day. Please contact Hoylake Parade Community Centre to book space, via the Festival website. Small charges apply.
Part of the Wirral Festival of Firsts, 27th June - 12th July
For more details download full Festival programme here

Sunday 12th July 12.00pm - 3.00pm
Homegrown Bananas on the Prom at Hoylake
Homegrown Bananas leads a joyful seaside show featuring different local musical groups.
Part of the Wirral Festival of Firsts, 27th June - 12th July
For more details download full Festival programme here


Wednesday 22nd July, 9 - 11pm
Bat and Owl night at Royden Park
Join the Ranger on this evening stroll and discover where bats and owls live and hunt.
Number limited - *Booking essential*
Meet at the Courtyard/Coach House at Royden Park.
Special requirements: Wind/waterproof clothing and stout footwear are essential. Sorry no dogs.
Booking requirements/numbers: *Booking essential*. Please contact Royden Park on 0151 677 7594
Contact: midwirralrangers@wirral.gov.uk

Thurs 23rd July 8pm
"Bee-eaters & Kingfishers"
An introduction to the birds of Goa. Chris Galvin
Kingsmead School Hall, Bertram Drive, Hoylake CH47 0LL
www.wirralbirdclub.com Non members are very welcome and the charge is £3.50 which includes light refreshments.
For more information, please contact Bill on 0151 345 4978



Sat 25th July, 9 - 1pm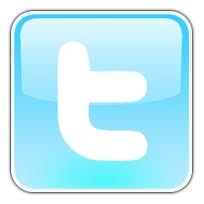 West Kirby Farmers' Market
St Andrew's Church Hall, Graham Rd, West Kirby CH48 5DE
By popular demand - your monthly Farmers' Market in West Kirby. Today and the 4th Sat in every month. Genuine local producers selling quality artisan foods. Organised by local volunteers, producers and Transition Town West Kirby. www.westkirbyfarmersmarket.co.uk

Saturday 25th July, 10.30am - 3.30 pm
Owl Workshop in the Coach House
Join the Wirral Barn Owl Trust on this Owl workshop in the Coach House and identify the different owl pellets and other interesting facts about owls.
Meet at the Courtyard/Coach House at Royden Park.
The Tea Servery here is open for refreshments.
Special requirements: Sorry no dogs
Contact: midwirralrangers@wirral.gov.uk 0151 677 7594



Saturday 25th July 11.30am - 3pm
Reflective Walk to Hilbre Island
With Transition Town West Kirby
Meet at Dee Lane slipway 11.30 am to set out at 11.45, returning about 3pm.
For those who wish, we offer opportunities for relaxation exercises and sharing. Please bring lunch to share.

Sunday 26th July
Hoylake Allotment Open Day
Lots to see & do, stalls, bbq for the annual allotment open day - a great day out for all the family.
Hoylake Allotments - access at the bottom of Sandringham Avenue, Hoylake.

Sunday 26th July 2-4pm
Penninsula Jazz Band
In Ashton Park, West Kirby - Upper Park Arena
Bring a brolly and a blanket.
Admission Free - donations welcome
www.ashtonpark.btck.co.uk

Sunday 26th July
Leasowe Common and River Birket
Returning waders, sea birds and migrants.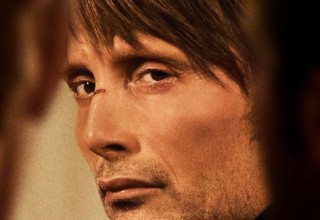 www.wirralbirdclub.com Field Meeting. Non-members are welcome to come to field trips - [click here for more info]


Wednesday 5th August, 10.30am - 3.30 pm
Bumble Bee Workshop and Walk
Join the Ranger and Cheshire Wildlife Trust on this Bumble Bee workshop in the morning then on a walk to identify the different Bumble Bees that frequent this area. Numbers limited so *please book*. There is small charge of £2 per person.
Meet at the Courtyard/Coach House at Royden Park.
The Tea Servery here is open for refreshments.
Special requirements: Suitable outdoor clothing and footwear. Sorry no dogs
Booking requirements/numbers: *Booking essential*.
Contact: midwirralrangers@wirral.gov.uk 0151 677 7594

Sunday 9th August, 11am - 3pm
Animal Ark at Royden Park
Come and see a variety of exotic and native animals form skunks to chameleons, snakes to spiders and lots more!
Meet: In the Coach House at Royden Park
Special requirements: Sorry no dogs.
Contact: midwirralrangers@wirral.gov.uk


Wednesday 19th August, 1.30pm - 3.30pm
Fun Scavenger Hunt at Heswall Dales
Come along on this summer's children's event and an excuse to explore and have fun collecting clues and learning about Heswall Dales with Wirral Rangers.
Meet at Heswall Dales/Dale Farm entrance off Oldfield Road, Heswall (CH60 6SN)
Special requirements: Sorry no dogs
Contact: dantravis@wirral.gov.uk 0151 677 7594

Wednesday 19th August, 1.30pm - 3
Be a Nature Detective at Royden Park
Come along on this summer's children's event and have a go at being a nature detective at Royden Park. Collect your clues between the above times.
Meet at the Coach House/Courtyard at Royden Park.
The Tea Servery here is open for refreshments.
Special requirements: Outdoor clothing and footwear.
Contact: midwirralrangers@wirral.gov.uk 0151 677 7594

Thursday 20th August - Sunday 30th August, 11am - 4pm
Art Exhibition at the Coach House Royden Park
Come and see a variety of paintings all on display in the Coach House at Royden Park. Browse, purchase or potter.
Including a children's workshop all within the Coach House.
The Tea Servery here is open for refreshments.
Special requirements
Contact: midwirralrangers@wirral.gov.uk 0151 677 7594



Sat 22nd August, 9 - 1pm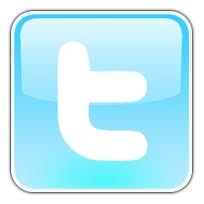 West Kirby Farmers' Market
St Andrew's Church Hall, Graham Rd, West Kirby CH48 5DE
By popular demand - your monthly Farmers' Market in West Kirby. Today and the 4th Sat in every month. Genuine local producers selling quality artisan foods. Organised by local volunteers, producers and Transition Town West Kirby. www.westkirbyfarmersmarket.co.uk

Sun 23rd Aug
Coastal Foraging Session
This fun summertime foraging session will include exploring the sand flats of the Dee estuary on the Wirral for a variety of interesting and highly edible coastal plants. This informative foraging session is suitable for adults and children alike and should make for an enjoyable group day out. The session will last four, or slightly more, hours so please bring food and drink to keep energy levels up. Outdoor footwear including wellies/waders is well advised. Details of the meeting place will be provided on booking. Cost Adults £20, Children £10
Bookings, which are essential, must be made via Jesper on 07900544826 or via info@jesperlaunder.com


Bank Holiday Monday 31st August, 1.30pm - 3.30pm
The Beauty of Heathlands at Heswall
Join the Ranger and Cheshire Wildlife Trust on this guided walk and discover the beauty and wildlife of these heathland habitats within Heswall. The sites are Cleaver Heath and Heswall Dales.
Meet: Cleaver Heath on Oldfield Road, Heswall
Special requirements: Warm and waterproof clothing and stout footwear.
Contact: midwirralrangers@wirral.gov.uk 0151 677 7594

--------------------- September 2015 -----------

Saturday 5th Sep from 12 noon
Friends of Victoria Gardens Neighbourhood Picnic
In Victoria Gardens
Produce and book stalls, bouncy castle, pony rides, barbecue
All welcome.

Sunday 6th September, 10am - 4pm
Static Live Birds of Prey Display - Coach House, Royden Park
Visit Royden Park today and see these wonderful Birds of Prey from all over the world within the Coach House. These are all birds of Steve Dewsnap of Raptor Rescue.
The Tea Servery here is open for refreshments.
Special requirements: Sorry no dogs within the Coach House
Contact: midwirralrangers@wirral.gov.uk 0151 677 7594


Sunday 20th Sept, starting at 11.00am
The annual Hoylake 10k run
The 10k Run is held annually to raise funds for the Wednesday Special Needs Club. The club runs and maintains the Soft Play Sensory Resource for Wirral's special needs people of all ages. The money raised from the 10k is used for the upkeep of the Sensory Resource. It is located in the The Parade Hoylake Community Centre, Hoyle Road, Hoylake.
For further information please visit www.wsnc.co.uk