Wednesday 20th March 10.30am to 12.30pm
Coffee, Conversation and Creativity theme: Textile Printing
The Making Space, 1 Coronation Buildings, Gilroy Road, West Kirby
There will be materials available, ongoing creative themes, hot drinks and good company. Chat and create or just chat! These sessions are free but donations are welcome. Please call Marko to book a space 625 9974.
A Transition Town West Kirby project.

Wed 20 Mar 7pm for 7.30pm
Peril at Sea - Up The Road Theatre Production
The greatest storm in living memory blasts the English coast. Striving against the howling winds and pounding waves, a lonely boat struggles on. Those left behind wait impatiently, huddled together, isolated and unfamiliar. As the storm rages, stories, memories, songs and myths tumble out of the night, capturing a life lived on and around the sea.
At West Kirby Arts Centre, 29 Brookfield Gardens, West Kirby, CH48 4EL
Check details & tickets...
(Please note that there is no parking available on Brookfield Gardens or Brookfield Road. We recommend that all visitors park at the Concourse).

Wed 20th March 7.30pm
Heswall Hall Cinema presents "Bohemian Rhapsody" (12A)
A foot-stomping celebration of Queen, their music & their extraordinary lead singer Freddie Mercury
Heswall Hall - 111 Telegraph Road Heswall Wirral CH60 0AF Check details and tickets...

Thursday 21 March 7.30pm
Deeside Lecture Society Annual General Meeting and lecture, Visiting the Victory: A Life on the Ocean Wave, Michael Corfe
(Please note: The AGM starts at 7.30pm, followed by the lecture at 8pm).
In the Small Hall at the U.R.C. Church West Kirby Visitors welcome - £3
For more details contact John Turner 625 7061
www.deesidels.weebly.com
Membership for 10 Lectures £15



Sat 23rd March, 9 - 1pm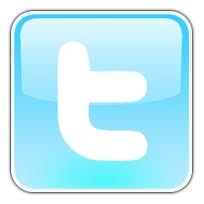 West Kirby Farmers' Market
St Andrew's Church Hall, Graham Rd, West Kirby CH48 5DE
Buy from a great selection of locally produced food. Today and the 4th Sat in every month. Genuine local producers selling quality artisan foods. Organised by local volunteers, producers and Transition Town West Kirby https://westkirbyfarmersmarket.co.uk

Sat 23 Mar 7.00pm for 7.30pm
Like a Hurricane
Popular Rock and Pop
5 piece guitar band - 70's to date Classics inc: Eagles, Bryan Adams, Neil Young, Oasis, Santana, Taylor Swift, Lynyrd Skynyrd.
At West Kirby Arts Centre, 29 Brookfield Gardens, West Kirby, CH48 4EL
Check details & tickets...
(Please note that there is no parking available on Brookfield Gardens or Brookfield Road. We recommend that all visitors park at the Concourse).

Sunday 24th March 10.00 am - 12.00pm.
Join The High Tidiers: West Kirby's Clean Up Crew
At West Kirby Beach (Meet at Hilbre Tides Notice Board)
Help keep the coast litter free, and enjoy a family friendly morning with a real feeling of achievement.
A Transition Town West Kirby project. More details at www.facebook.com/hightidiersWestKirby


----------------------- April -------------

Thursday 4th April.
Coffee, Conversation and Creativity
The Making Space, 1 Coronation Buildings, Gilroy Road, West Kirby
There will be materials available, ongoing creative themes, hot drinks and good company. Chat and create or just chat! These sessions are free but donations are welcome. Please call Marko to book a space 625 9974.
A Transition Town West Kirby project.

Saturday 6th April 10.00 am - 12.00pm.
Join The High Tidiers: West Kirby's Clean Up Crew
At Thurstaston Common (Meet at the car park on Telegraph Road)
Help keep the coast litter free, and enjoy a family friendly morning with a real feeling of achievement.
A Transition Town West Kirby project. More details at www.facebook.com/hightidiersWestKirby



18th April 7.30pm
Planting in the Shade
by Carol Madden
Join Hoylake & District Gardening Society for this talk at St Michael & All Angels, Woodland Road, Newton, West Kirby CH48 6EL. Guests are always welcome at £2 per meeting which includes tea/coffee.
... [more details]

Saturday 20th Apr 10am to 2pm
Heswall Farmers' Market
Third Saturday of every month
www.facebook.com/HeswallFarmerMarket

Sunday 21st April 10.00 am - 12.00pm.
Join The High Tidiers: West Kirby's Clean Up Crew
At West Kirby Beach (Meet at Hilbre Tides Notice Board)
Help keep the coast litter free, and enjoy a family friendly morning with a real feeling of achievement.
A Transition Town West Kirby project. More details at www.facebook.com/hightidiersWestKirby


Monday 29 April 7.30pm
Rautio Piano Trio
Mozart: Divertimento Trio in B flat, KV254
Beethoven: Piano Trio in D, Op.70 No.1
Bernstein: Piano Trio
Ravel: Piano Trio in a minor
Wirral Chamber Music Series at St Hildeburgh's church, Hoylake CH47 1HL
More details...

----------------------- May -------------

Thursday 2nd May 2 - 4 p.m.
Bluebells Galore: A Guided Walk
A guided walk along footpaths to enjoy bluebells, wood anemones, celandines and other woodland flowers. Find out about the significance of this ancient woodland, and admire its sounds, sights and scents.
Part of Wirral Walking Festival.
Steep slopes - stout footwear needed. Not suitable for wheelchairs or those with poor walking ability.
No booking needed. Free but donations welcome.
Start and finish at Bromborough Rake station (Merseyrail line). SJ342819
No parking by station, but space available in local side roads.
Contact: Hilary Ash by email or telephone 0151 327 5923 or 07855 053210
www.wirralwildlife.org.uk

Fri 3 May 7.00pm for 7.30pm
We Are What We Overcome
Matt McGuiness songs and stories
Fresh from a successful run at the Edinburgh Fringe, musician, performer and writer Matt McGuinness presents his debut show as part of a UK tour. Uplifting, anthemic tunes punctuate stories and conversation, shedding light on mental health with self-deprecating honesty and dark humour. This show is for anyone who has ever overcome one of life's many challenges or is battling to do so.
At West Kirby Arts Centre, 29 Brookfield Gardens, West Kirby, CH48 4EL
Check details & tickets...
(Please note that there is no parking available on Brookfield Gardens or Brookfield Road. We recommend that all visitors park at the Concourse).

Sunday 5th May 4.30 - 7.30 a.m.
Dawn Chorus Walk at Cleaver Heath
We should hear a wide range of both our resident birds and returning migrants, and there should be plenty to interest those who can already identify birds by call and song, as well as those absolute beginners who want to make a start.
To book: www.cheshirewildlifetrust.org.uk/events
The maximum group size will be 16, on a first-come-first-served basis.
Free but donations welcome.
Meet at Cleaver Heath nature reserve on Oldfield Road, Heswall, CH60 6SG
Warm waterproof clothing and stout footwear are recommended. Sorry, no dogs. Not suitable for wheelchairs or those with poor walking ability.
Bring binoculars if available (not essential).
www.wirralwildlife.org.uk

Sunday 5th May 10.00 am - 12.00pm.
Join The High Tidiers: West Kirby's Clean Up Crew
At West Kirby Beach (Meet at Hilbre Tides Notice Board)
Help keep the coast litter free, and enjoy a family friendly morning with a real feeling of achievement.
A Transition Town West Kirby project. More details at www.facebook.com/hightidiersWestKirby

Sunday 5th May 11 a.m. - 4 p.m.
New Ferry Butterfly Park Open Day
Lots to see and do for all the family: art trail, art and craft tables, spider identification, nature walk, pond dipping, tombola, plant sale, cake sale, BBQ.
Entry to the event is free, donations welcome.
No parking at the park during the Open Day, except disabled access. Plenty of parking available in the local area. Good public transport links available. Map of location.
Contact: Paul Loughnane by email or telephone 0151 645 8937.
www.wirralwildlife.org.uk


Wednesday 15th to Saturday 18th May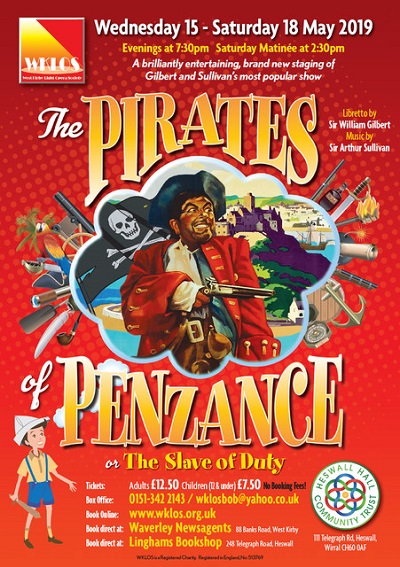 The Pirates of Penzance
An exciting new production from WKLOS. With its swashbuckling pirates, innocent lovers, bumbling policemen, a modern Major General, not so dutiful daughters and a Pirate King who's too tenderhearted to make piracy pay, this effervescent musical comedy classic is sure to be a treat for the whole family!
At Heswall Hall.
Evening performances start at 7:30pm and the Saturday matinee at 2:30pm.
Ticket pricing: Adults: £12.50; Children (aged 12 years and under): £7.50
Booking information: Telephone: 0151 342 2143; or email: wklosbob@yahoo.co.uk; or book online: www.wklos.org.uk (and click on the link). NO BOOKING FEES PAYABLE. Ticket outlets: Waverley newsagents, Banks Road, West Kirby and Linghams bookshop, Telegraph Road, Heswall.

Thurs 16th May 7.30pm
Three Contrasting Southern Gardens
by Jane Allison
Join Hoylake & District Gardening Society for this talk at St Michael & All Angels, Woodland Road, Newton, West Kirby CH48 6EL. Guests are always welcome at £2 per meeting which includes tea/coffee.
... [more details]

Friday May 17th: 6:30pm start
Homegrown Bananas - Music and Performance
At The Sweet Pea Cafe, Acacia Grove, West Kirby. (8:30pm finish)
Join us for our monthly music and performance Open Stage Sessions .All performers and abilities but encourage a family friendly vibe to keep these events strictly positive and welcoming. Entry is by a suggested £3+ donation.
A Transition Town West Kirby project

Saturday 18th May 10.00 am - 12.00pm.
Join The High Tidiers: West Kirby's Clean Up Crew
At West Kirby Beach (Meet at Hilbre Tides Notice Board)
Help keep the coast litter free, and enjoy a family friendly morning with a real feeling of achievement.
A Transition Town West Kirby project. More details at www.facebook.com/hightidiersWestKirby

Saturday 18th May 10am to 2pm
Heswall Farmers' Market
Third Saturday of every month
www.facebook.com/HeswallFarmerMarket

Saturday 18th May 2-4pm
Thor's Rock: The Geology of Thurstaston Common
Learn more about the geology of Thurstaston with Dr Hilary Davies from Liverpool Geological Society.
From the car park we will climb to the viewpoint at the top of the hill, in order to look at the overall impact of the underlying geology on the scenery around the Dee estuary. We will then tour Thurstaston Common looking at various outcrops of red sandstone.
To book: www.cheshirewildlifetrust.org.uk/events
Free but donations welcome.
Meet at the car park on Telegraph Road near the Cottage Loaf.
Warm waterproof clothing and stout footwear are recommended. Sorry, no dogs.
Not suitable for wheelchairs or those with poor walking ability.

Sunday, 19 May 6.30pm for 7.00pm
Men in General
Male vocal a cappella singing and comedy
Features members of The Singing Sous'Chefs (UK), The Spooky Men's Chorale (Australia), A Fistful of Spookies (UK), Mumbo Jumbo plus a Bargain Hunt expert and a Geography graduate.
At West Kirby Arts Centre, 29 Brookfield Gardens, West Kirby, CH48 4EL
Check details & tickets...
(Please note that there is no parking available on Brookfield Gardens or Brookfield Road. We recommend that all visitors park at the Concourse).