Monday 18 April 7.30pm
Alexander Soares
Wirral Chamber Music Series
At St Hildeburgh's Church, Stanley Road CH47 1HL
Bach J.S.: Partita No.5, BWV 829
Debussy: Children's Corner
Chopin: Mazurka, Op.17 No.4
Chopin: Polonaise-Fantaisie, Op.61
Schumann R: Kreisleriana, Op.16
Hoylake Chamber Concert Society
More details at www.chamberconcert.co.uk

Thursday 21st April 2pm
West Kirby Shops In Days Gone Bye
A talk by Heather Chapman at West Kirby Library
A valuable spoken addition to the many photos of old West Kirby available through such groups as WIOP (Wirral In Old Photographs). Coinciding with Heather's talk will be a display of history projects about West Kirby, being researched by Heather and the West Kirby Museum research groups. The display will be on view from the 18th to the 30th at West Kirby Library, in the show room sited between the Sports Centre and the Library.

Friday 22nd April 7.30
A concert from the Junior Royal Northern College of Music
St Bridget's Church, Church Road, West Kirby. Admission on the door: Adults £10, Concessions £8, Students Free. Prices include wine and drinks. Tickets available from the Parish Office, St Bridget's Centre, St Bridget's Lane (mornings only) 625-2739 or Edward Edwards 632-2346. Proceeds will support the Junior RNCM Bursary Fund.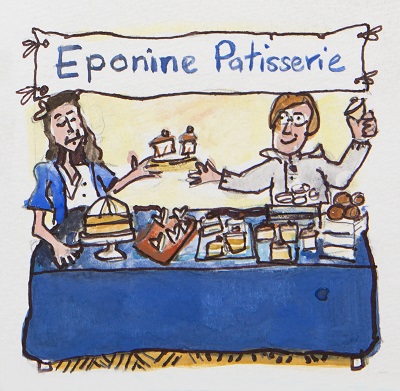 St Bridget's have enjoyed two previous visits from students of the Junior RNCM and have been very impressed by the young talent playing in front of us - come and you wont be disappointed!

Sat 23rd April, 9 - 1pm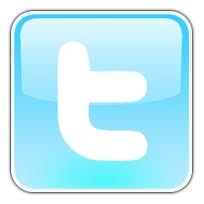 West Kirby Farmers' Market
St Andrew's Church Hall, Graham Rd, West Kirby CH48 5DE
Buy from a great selection of locally produced food, including luxury confectionary & patisserie from Eponine Patisserie. Today and the 4th Sat in every month. Genuine local producers selling quality artisan foods. Organised by local volunteers, producers and Transition Town West Kirby. www.westkirbyfarmersmarket.co.uk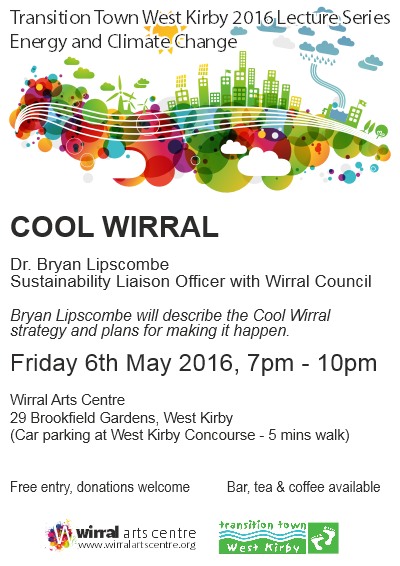 ----------------------- May -------------

Monday 2nd May 10am - 4pm
Ashton Park May Fair
With all the usual attractions - children's fair, bouncy castle, vikings. pony rides, stalls, belly dancers, mummers, facepainting, model boats, bowls, refreshments, West Kirby Museum open, St Bridget's Church and Tower tours also open - spread between Westbourne Hall, Ashton Park and St Bridget's Church and Centre.
Come along, bring the family, friends and the grandchildren!
If you wish to donate bric a brac or books please bring them along to Westbourne Hall after 7.15 on Sunday, 1st May or ring Dave Wade (625-6184) or Martin Harrison (625-8535) beforehand if you cant make it on the 1st May.
Volunteers for the day are welcome - call Dave Wade on 625-6184. An hour or two would be very helpful!

Friday May 6th
Cool Wirral
Dr. Bryan Lipscombe (Sustainability Liaison Officer with Wirral Council) will describe the Cool Wirral strategy and plans for making it happen.
A Transition Town West Kirby Energy event at Wirral Arts Centre, 29 Brookfield Gardens, West Kirby, CH48 4EL
(please note there is no parking available on Brookfield Gardens or Brookfield Road we recommend that all visitors park at the West Kirby Concourse.)
www.transitiontownwestkirby.co.uk

Sat 7th May 9am til 1pm
Neston Farmers' & Food Makers' Market
The first Saturday of every month, at the Market Square, Neston.

Sat May 7th
West Kirby Litter Pickers Launch Event
Working with the New Brighteners Litter Picking Group, who hope to seed a new autonomous group in West Kirby, Homegrown Bananas present a performance and music based launch. Venue and further detail to come! To get involved or volunteer to lead or be part of the Litter Picking Group please get in contact via sebarashii@rocketmail.com
www.transitiontownwestkirby.co.uk

Tuesday 10th May 7.30pm
Local Wildlife - A Personal View by Photographer and Wildlife expert Ron Thomas
A Talk presented by The Friends of Hilbre
At The United Reform Church Hall
West Kirby
Members free Visitors welcome £3.00
To be followed by the FoH AGM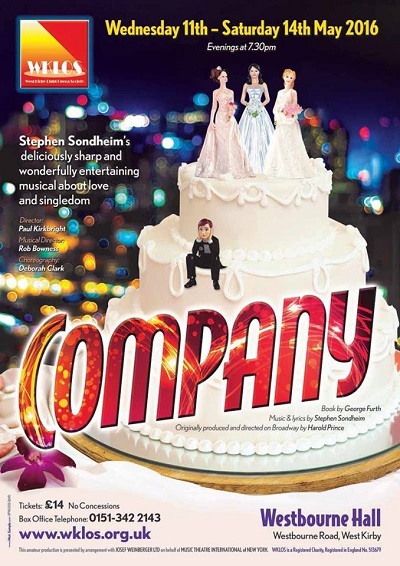 Saturday 21st May 10am to 3pm
Heswall Farmers' Market
Third Saturday of every month
www.hdba.uk/events/heswall-farmers-market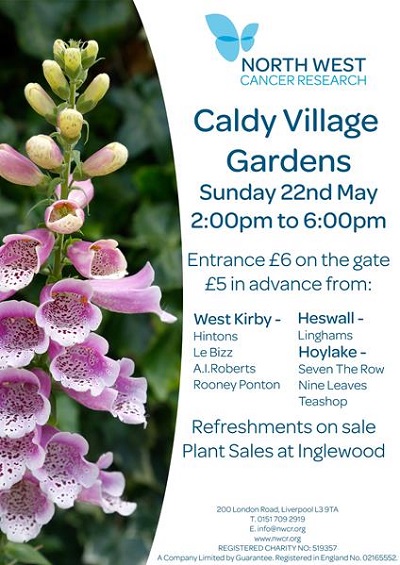 Sat May 21, 2pm - 4pm
Minerals and Fossils: the geology of Thurstaston Shore
A guided walk with Hilary Davies of Liverpool Geological Society. Donations welcome. Contact Wirral Wildlife 0151 342 1395, info@wirralwildlife.org.uk

Sunday 22 May
Waun-y-Llyn C. P. (near Hope)
Welsh hill site with stunning views, with Green Woodpecker and Raven.
Wirral Bird Club Field Meeting More details

Sunday, 22 May from 2pm 6pm
Caldy Village Gardens
A great opportunity to visit a wide selection of different styles and sized private gardens in Caldy, together with Caldy Manor gardens and Caldy Church and gardens, with an extensive range of plants on sale, all in aid of North West Cancer Research.
Tickets: £5 in advance from various local shops and simonsfield@btinternet.com £6 on the day in Caldy Village


----------------------- June -------------

Friday June 3rd
Energy and Climate Change Talk (Speaker TBC)
Following on from Richard Taylor's talk on Nuclear Energy and Power at the Wirral Arts Centre on 29th January, we are planning further talks which we expect to cover Wind Energy and other 'Renewable' energy sources as well as how communities can take action to address the impact of climate change.
All talks will take place at Wirral Arts Centre, 29 Brookfield Gardens, West Kirby, CH48 4EL
(please note there is no parking available on Brookfield Gardens or Brookfield Road we recommend that all visitors park at the West Kirby Concourse.)
www.transitiontownwestkirby.co.uk

Sat 4th June 9am til 1pm
Neston Farmers' & Food Makers' Market
The first Saturday of every month, at the Market Square, Neston.


Wednesday 15 June 7.15pm
The Slave Ships of Parkgate & Neston
Tutor: Antony Annakin Smith
Parkgate was a major seaport during the height of the slave trade and many local people and ships were involved in the trade one way or another. Based on his original research, Anthony reveals the local links to the trade, shows how the slave trading business really worked, and discusses events on many of the voyages undertaken by ships with local connections.
At Burton Manor Gardens, The Village, Burton CH64 5SJ
Full Fee: £8 ( £6.50 Friends of Burton Manor Gardens ) Enquiries and Bookings - burtonmanorgardens@gmail.com, 0151 345 1107. Tea, coffee, soft drink & biscuits provided.

Saturday 18th June 10am to 3pm
Heswall Farmers' Market
Third Saturday of every month
www.hdba.uk/events/heswall-farmers-market